Discover more from Comfort for the Apocalypse
One part hope, one part a call to action. Comfort for the Apocalypse is monthly essays, recipes and recommendations for those trying to live their best possible life in impossible times.
Comfort for the Apocalypse: Issue 11, Short Days
How to see in the dark
Last week I went out my gate at a time I would normally be in bed in hopes of seeing the Northern lights. The beam from my small flashlight bobbed along the stretch of roadway that passes our community mailboxes, carved a bright path towards the packed earth trail down to the beach. Picking my way over a yellow milk crate and some logs at the bottom, I walked a little and found the place I've moon-gazed from before. On clear days in the summer, Mount Baker is visible from here. On a winter night, with only a crescent moon, the lights of Gibsons and West Vancouver are apparent, haloed by the glow from the big city just a few kilometres to the south. But despite the fact there are lights on the shore across from me, the place where I sit, tucked into the bottom of the bank, is unlit. The house above me is unoccupied for much of the year, as are many of the water-facing homes. Fortunately, they are older places, and not owned by the kind of people who use automatic timers to mimic activity when they are away. I click off my flashlight as I settle in, let my eyes and ears adjust to the sounds of the dark ocean, and pull my coat around me. There is no trace of aurora borealis, but I decide to stay for awhile and look for shooting stars.

I've been reading Gary Snyder's Mountains and Rivers Without End recently, a book length poem written over forty years. One of the early poems in the book, "Night Highway 99" compiles images from a hitchhiking trip he took around the Pacific Northwest in 1956. He traces a route from Mt. Vernon down through Tacoma, Canyonville, Yreka, Grants Pass, and ending in San Francisco. His route and way points are places I have known well on my own trips south to visit the in-laws and outlaws of my long activist life. But although I recognize Snyder's route, even he was was writing about a time and landscape already disappearing when he stuck out his thumb. A kind of pre-television existence and people–the loggers, shingle weavers and fishermen, the American outsiders who went West and North in search of something greater than the cities of the East. Snyder laments the loss of wildness, the straightening of roadways in an effort to civilize the mountain passes for the increased traffic driving ever forward in a post-war rush to expansion.
The road that's followed goes forever;
in half a minute crossed and left behind.
Out of the snow and into red-dirt plains
blossoming plums
Each time you go that road it gets more straight
curves across the mountain lost in fill.
As I look across the water on my dark November night, I think about this poem, this sentiment of Snyder's and how not very long ago the lights of Sechelt and Gibsons on the other side of the strait would not have reached this shore. Street lights, flood lights, motion sensors, and timers–these are the ways we straighten out the dark. At my own house we have installed lighting I can turn on with a single voice command; when I'm on my own I can quickly answer any potential intruder with a rush of illumination. We use light to broadcast safety, to drive away our fears of what goes bump in the night, in the curves of the unknown that descend onto us early, once the autumn equinox has passed.

Snyder's highway of 1956 seems so much safer than the highways of our time, still more connected to human histories, as he travels through still-prosperous fishing, logging and mill towns. The bomb of economic ruin and hard drugs had not yet hit the logging towns, the cannery and fishing villages had not yet been turned out for tourism. He went forth in a time before the serial killers of my childhood, men who used the highways to hide their activities, moving up and down the coast in search of more than an escape. By contrast, Snyder and his fellow riders, the outsiders he describes in snatches of conversation and moving picture, seem wholly unaware of what is right around the corner in an ever-anonymized society. Though the shadow of warfare looms all around Snyder's generation, there is a certainty they will awake to safety once the road deposits them wherever they need to go.
–Abandon really means it
the network womb stretched loose all
things slip through
Dreaming on a bench under newspapers
I woke covered with rhododendron blooms
alone in a State Park in Oregon.
Flying into a large city at night we look down and see how it is marked by the spread of lights, like dividing cells, forming tendrils out from the misshapen mass at the core. Lamp posts and the tail lights of cars blinking on and off move ever outward in an attempt to find the night skies again. Maybe the suburbs. Maybe the former farms on the rural edge of the city. Out there we hope there is a place where we can rest, sleep our deepest sleep, take respite from the light and a world turning against us in frightening ways. These border areas are without amenities at first, but before long they too are flooded with all that civilization has to offer. I see it where I live: people move here, grateful to be out of the city, but some of them after only a few months start asking wouldn't street lights make things safer; a bridge to the larger community more convenient?

It's as though we don't know how to stop, to rest. To give every living thing a chance to sigh and turn over in bed, in the meadow or nest. We reject living by the lightrise and nightfall that have guided us for tens of thousands of years. We want to stay awake at all costs, bathed in the blue light of our screens, protecting our homes, alerted by motion detectors triggered by any rodent or coyote scuttling by. Last winter I arrived at my rural cabin to discover that one of my land partners had installed twinkling solar lights in the outhouse. Now when I look out in the night, it is not quite the refuge the end of the road has always offered, so far away from the city, high in the mountains, bereft of artificial light once the sun goes down.
Even Snyder in his travels wearies of being "out there", and looks forward to the termination of his night highway in the embrace of urban friendship.
City
gleaming far away
we make it into town tonight
get clean and drink some wine–

SAN FRANCISCO
We know this relief, this reprieve from the dark and dust of being outside, but the the light obscures so much of what we need to see. On this frigid beach in the middle of November I am grateful to look up and see a star streaking across the sky and dropping behind the silhouette of the North Shore Mountains. Light pollution hasn't robbed me of this simple joy yet. And although there is no crackle of the green lights that pass for "northern" down here in the south, I am satisfied with the darkness alone, how it heightens the sound of waves pulling against the rocks, the smell of the brine-soaked seaweed heaved up in heaps along the tide line. After a time, I am ready for the warmth of bed. My eyes adjusted, I do not need my little light, and I stumble up the trail and back towards the road. As I enter my gate, my yard awash in light breaks the spell I have been under. I lose my ability to see in the dark once more, and I take the steps to go inside.


November recipe: Colombian Coconut Chicken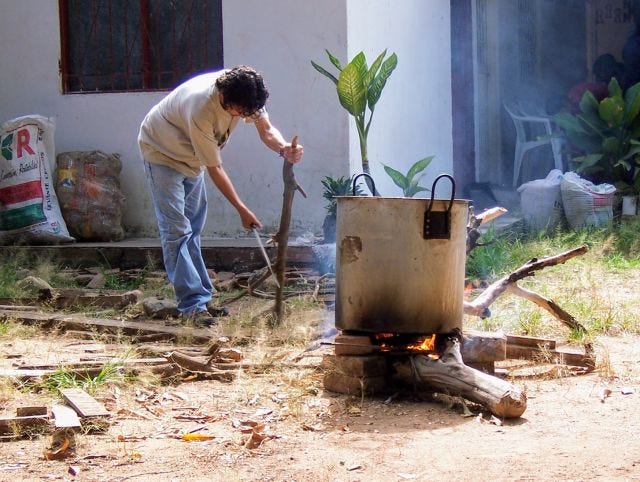 In 2006 I went to Colombia on a human rights witnessing trip with a group of trade unionists. While there, we traveled around the countryside meeting with human rights activists, union leaders, and people who had lost their homes and loved ones in the 50+ year civil conflict. At this time it was dangerous to travel in-country, and at passport control we told officials we were religious missionaries so as not to get turned away.

Near the beginning of our travels, our delegation went to visit a small human rights school run by the Organizacion Feminina Popular in Neiva. The school was a one-room affair with bars on the windows and fence topped with broken glass around the backyard. We came there for the dual purpose of witnessing a group of students receiving their organizing diplomas, and to meet with family members of teenagers who had been killed by paramilitaries while playing soccer a couple of years earlier. The accounts of these parents were a somber reminder of why human rights organizing was so necessary; their sons were killed for no reason other than retribution against a community suspected of supporting the FARC.

We left that small ceremony and went out into the back yard of the centre where two young men had built a fire on which they placed a large pot. Into that pot went rice, potato, chicken, spices, and assorted vegetables in some correct order overseen by a couple of older women in the group. As the stew was close to ready, the work of many hands set up tables and chairs, brought out bowls and cutlery. The heart-rending stories from the day were temporarily forgotten as we took our places, and filled bowls were passed down to each place. After a long day of travelling and talking in two languages, shedding tears for the beauty of that war-torn place, I still remember that stew as one of the best things I have ever eaten.

The other night I opened up the Milk Street Tuesday Nights cookbook with the intent of trying a new recipe. After leafing through it I landed on the recipe for Colombian Coconut Chicken, what looked to be a warm and comforting meal for a November night. Brian and I cooked together and when we sat down and took the first bite, this story about the human rights school in Neiva came bubbling up. I had unwittingly chosen a recipe close to the one I was served thirteen years ago in that dusty courtyard and the taste of it took me right back to a place where people were building community even while fighting for their lives. I'm sharing it here today in recognition of the dignity and courage I saw on that trip, for the people who are still struggling to be free everywhere today, and with a note that even during times of hardship we must find ways to sit down and eat together. This stew should warm you in all the right ways.
Ingredients

1 1/2 cups unsweetened shredded coconut 2 tablespoons oil 1 teaspoon ground turmeric 1 medium yellow onion, finely chopped 8 medium garlic cloves, minced 1 tablespoon tomato paste 1 1/2 teaspoons ground allspice 1 tablespoon soy sauce Kosher salt 2 pounds boneless, skinless chicken thighs, trimmed 1 tablespoon lime juice plus lime wedges, to serve 1 pint cherry or grape tomatoes, halved
In a blender, combine the coconut and 2 cups warm water. Let stand until the coconut begins to soften, about 1 minute. Blend on high until creamy, 1 to 2 minutes. Strain through a fine-mesh strainer, pressing on the solids. Discard the solids. You should have a total of 1½ cups strained coconut milk.


In a large Dutch oven over medium, heat the oil until shimmering. Stir in the turmeric and cook until fragrant and the oil has turned yellow, about 30 seconds. Add the onion and garlic and cook, stirring, until the onion is softened, about 3 minutes.


Stir in the tomato paste and allspice, then 1½ cups of the coconut milk, the soy sauce and 1 teaspoon salt. Bring to a simmer, then nestle the chicken in an even layer in the liquid, cover and reduce to medium low.


Cook until a skewer inserted into the chicken meets no resistance, 18 to 22 minutes, flipping the pieces once halfway through.


When the chicken is done, use tongs to transfer the meat to a serving dish. Bring the liquid in the pot to a simmer over medium and cook, stirring frequently, until reduced by about half and thickened, about 12 minutes.


Pour in any accumulated chicken juices and simmer for another minute. Off heat, stir in the lime juice and tomatoes. Taste and season with salt, then return the chicken to the pot, turning to coat. Transfer to the serving dish and serve with lime wedges and rice or another grain to your liking.
Credit: Milk Street Tuesday Nights by Christopher Kimball


In the studio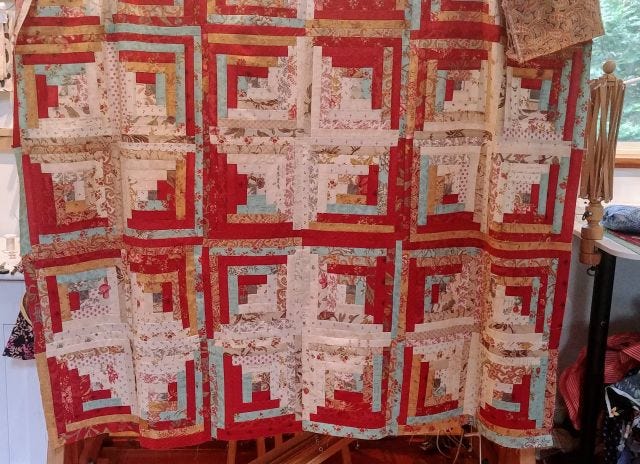 I have barely touched base with my studio this fall. It's my home office so yes, I'm in it every day, but very little time has been spent making things. This month I pulled out a number of small unfinished objects and started putting them to rights. Of course this has lead to pulling out large unfinished objects so I can properly assess them for finishing in the next little while. One of them is the quilt top you see here. I finished the major piecing work last winter and it just needs borders added before I can send it out for quilting. I look forward to having this done and on our bed sometime in early 2020!

In other studio news, I've started knitting a wool sweater this month, and the samue set got finished in time for my meditation retreat in mid-November. You can see it here if you are so inclined.


Three things
I am excited (and proud) to announce that the album by my husband Brian Green I told you about in Issue 3 is now in the world and available for streaming or download. As one friend said, "Campfire Songs of the Apocalypse is a love letter to what we have lost, what we are finding, where we have come from, and where we may yet be going." As much as I want to sing the praises of Brian and others who appear on this album, I encourage you to listen and hear for yourself.


I recently finished reading Norman Fischer's new book The World Could be Otherwise and feel like I need to go back to the beginning and read it again. Norman is the North American head teacher in my Soto Zen lineage and I think a lot of what he has to say is pretty brilliant and necessary right now, but this book in particular examines the six Buddhist perfections and what they have to offer us in terms of imagining and acting on the healing of our species and planet. I think he would agree with me in some skepticism about where things are actually heading, but practicing the six perfections (generosity, ethical conduct, patience, joyful effort, meditation, understanding) has got to go a long way towards a softer landing at least.

Hopepunk and Solarpunk: On Climate Narratives That Go Beyond the Apocalypse - this article by Alyssa Hull has been making the rounds and it really resonates with me. While I do use the term "apocalypse" quite liberally, I am mindful of the kinds of conversations I want to be having with people: those which advance an array of future possibles and strengthen our connections to each other in order to get us beyond narratives of hopelessness. My monthly mailing is part of that quest–an inquiry into the ideas and people out there working to give some shape to an unknown next set of circumstances.
And finally
You might remember that I've been running a contest for a few months: once the newsletter hit 150 subscribers I promised a draw for a tea towel and a jar of rhubarb ketchup. For whatever reason, my subscriber numbers slowed right down for a couple of months, but then last month they shot up again and I passed my 150 mark! Good news is, we have a winner – Mairi Welman! Bad news is, I still have to weave that tea towel, but it's going on the loom this weekend. I'll be in touch with you shortly Mairi for your mailing address.

I'll announce a new contest next month to ring in the new year. Please do keep sharing with people you think might like it, and drop me a line to let me know if there is something you particularly liked or didn't like in this last year of issues. You can reply directly to this email and it will only go to me!

As usual, you can find more of me at http://red-cedar.ca. If you have a project you would like me to plug on my blog or in this monthly mailing, please let me know! I'm thinking about content for 2020 and I would love to hear about projects, writings, artwork, and music that fits with the general theme I've got going on here.

See you next month, at the cusp of a new year.