Comfort for the Apocalypse Issue 6: Dinner and Drinks at the End of the World
A Conspiracy of Houses
"How do you put up with that?" Jan asks me, wrinkling her nose at the sound of drums coming from my husband Brian's garage-turned-music studio below my textile studio and office. I hadn't noticed the sound of Todd's motorcycle pulling up, but now realize it must be 2:30 and he's let himself in. A couple of months ago, we offered him use of the space when he complained he had nowhere to practice since moving to the island. He now has a massive drum kit set up down there and is one of a handful of musicians who uses the space during the week.

"Oh, that's just Todd," I say. "He checks in with me and shows up when I'm not working in the studio. I don't mind it."

"I couldn't do that," she says, gesturing towards the floor. "I couldn't stand it."

And I'm not sure if she just means the drumming, or something more. She's lived in a co-operative community, but I know the concept of having people just show up and use your living space can seem odd.

It's a reaction I anticipate. "I don't know how you put up with all these people coming and going," my mother once said when visiting me in my twenties in a home that hosted a lot of East Vancouver's activists needing a place to organize. It's not the way I grew up, but my adult homes have always been part living quarters, part community space, with frequent visitors and overnight guests in the mix. In these decades of dwindling public space, triggered in the eighties by the North American development boom, I never saw that we had much of an option but to share.

When I first moved to Vancouver in 1995, my Commercial Drive neighbourhood had two radical bookstores, an alternative film venue, a (literally) underground theatre, and two collectively run cafes that were used for meetings and events. Although one of those bookstores is still there (run as a co-op, barely able to make rent), all the other community-run storefront spaces are gone. Britannia Community Center and Library are options for events, but only certain kinds during certain hours. The loss of these spaces created a situation where if you wanted to build community, you had to open your own doors in order to do it.

Over a period of two decades in the city, I was a privileged renter (and later homeowner): able to rent homes for several years at a time, always in places with a working kitchen and a good-sized living room. While a living room should not be the definition of privilege, in tight housing markets it's one of the first things to go, overthrown to make room for another bedroom. And those dining rooms separated by pocket doors? You have to be among the elite to use those for eating in. At least, that's how it was, paying rent in a city with skyrocketing prices. But because I was fortunate (I've always had good timing and since my mid-twenties, well-paid work), I could host community meetings, band rehearsals, writing groups, neighbourhood potlucks and more.

Each of my homes, in Vancouver and now Gabriola, has been an incubator for relationships, events, creative projects and even the odd conspiracy—as activists, artists, and musicians passing through have given each house its own story, a few of which I am reminded of now.

At the Kitchener Street House: A gathering took place following an impromptu street party that had shut down Commercial Drive for many hours. My band, the Flying Folk Army, had been playing on the street and since we weren't done we took everyone left back to my house around the corner. I'm sure the walls of the narrow duplex bent outwards that night as the people poured in, vibrating and sweaty. Our crowd knew our songs, and when I sang the "Professional Protester", every voice in the room came with me. Shoulder-to-shoulder, jumping up and down. When the crowd thinned back out into the night, not a single thing in our home was broken or gone.

In the apartment above Turks: A perogie party co-hosted with musical comrade Norman Nawrocki where twenty people worked together to roll out dough and make filling for three kinds of perogies. Norman taught us a song in Polish, and in between work rounds we sang and drank shots of vodka. This was just one more event in a long line of dinners and parties I hosted, a night of food and song in the snugness of community. But to Ruben, a friend-of-a-friend who had come to my home for the first time, it was foundational to his sustainability thinking. He only recently told me this, going on to say that it was his first real adult experience of people working together in joy, something he believes our modern culture has forgotten and desperately needs to return to.

At the Urban Crow Bungalow: A commitment ceremony with the great love of my life in front of fifty friends packed into our living room. Officiated by our friend Twig who had travelled back from Japan in order to preside. It was an invitation to our community to be a part of our lives, as much as it was a turning towards one another. We had planned for a small party afterwards with potluck finger foods, but found ourselves ordering pizza close to midnight as the party carried on into the wee hours, spilling out into the backyard under the full moon of October. As people surged through our home and studio, drinking from the good vibes of our ceremony, I felt the power of joining forces with Brian, a person who shared my vision of what a good life looks like.

At Birdsong: This past spring, close to our third anniversary on Gabriola–a long-table dinner for twenty-five in the biggest room of the house. Because our oven was broken, we cooked a ham in an electric roasting pan and served cold salads and pickles as sides. The food wasn't elegant, but it was warmly received and afterwards people stayed around the table or decamped to the kitchen where conversations and cross-pollinations could be heard between people from diverse backgrounds who had not met before that night. At this event I acknowledged that being able to find 25 people who would come to a sit down dinner at our place signaled that we were truly in the Gabriola community. It was a transition to belonging, a continuation of our network in a new place.

Todd, drumming in my studio now, is one of the people who came to that recent Birdsong dinner. A guy we had only spoken to a few times but who has roots in our old East Vancouver neighbourhood. Jan was also there. I know her because she started attending the weekly Zen meditation circle I host on Tuesday nights. The people who come to our table aren't necessarily close friends, but they represent the network of "weak ties" Brian and I are continually threading.

Weak ties are part of what makes up a life in community. While strong ties are the people we are closest with–spouses, family members, good friends–a weak tie is someone with whom we share mutual recognition, an acquaintance. That could be the clerk at the grocery store, a neighbour we run into while getting mail, the people we idly chit-chat with at the farmer's market. Some of those weak tie relationships might be truly distant (we don't know your name), and some might be closer (you came to a house concert at Birdsong), but they all contribute to our overall well-being. Recent research suggests that not only are weak ties more influential than strong ties in shaping our opinions and attitudes, but all that small talk is integral to positive mental health.

Which makes sense when you think about it. We're social creatures, built physiologically for life as part of a tribe. Touch and eye contact, not to mention the social cohesion that comes from working together, are something we require at the root of our beings. A lack of social connections can be as damaging to our health as smoking, and loneliness is connected to cognitive decline. And yet at times our culture seems designed to cut us off from one another.

Given my history of houses, I've seen that one way to fix our separation wounds is to open our doors outwards. Whether you take that literally or metaphorically, there are many opportunities to do so and we see a return to this ethos all around us–meal trains for those recovering from surgery, calls for playdates, a new book club forming. In silent meditation practice at the Zendo, I've learned the real gift we give to one another when we simply show up and share space together.

I'm not much interested in the concept of altruism, and have no time for a charity model that pits giver and receiver against each other in a moral battle fueled by self-righteousness on both sides. The sharing of resources is as much self-interest as anything else. I want to return from the cauterizing world of screens, consumption, and overwork. I want to provide space for projects, activism, and art that radiate change into our cities and communities. And by inviting a cast of characters into my life, I am never lonely and I have people to ask for help when I need it. When someone gets an invite to our table, they may think they are just being invited for dinner, but the reality is, they are being invited into so much more than that.

The one photo I have from the street party-after party in my Kitchener Street living room. Pictured: Giles Grierson, Duane Murrin, Sean Morton.

June recipe: The Afternoon Marteani
There's something about summertime and the impending doom of another fire season on the west coast that just makes one want to drink. Am I right? If a civilized cocktail is what you're looking for then I direct you to the Afternoon Marteani, a concoction I devised for my husband Brian's 40th birthday party which was afternoon cocktails (and also went well beyond the afternoon; this seems to be a theme of parties at our house). To make this drink you will first need to make an Earl Grey liqueur. This may seem like an extravagant step, but we only have so many days before it all burns down; don't get stingy now!

Earl Grey liqueur (the fast way)

1 750 ml bottle of vodka
1.5 cups of water
6 tablespoons loose Earl Grey Tea
1 cup of sugar

Boil the water in a saucepan and throw the loose tea in, let it steep until your tea is very strong. Strain the tea leaves out and then put the remaining tea (about 1 cup) back into the saucepan with a cup of sugar. Simmer until the sugar is dissolved. You now have a tea-flavoured simple syrup. Cool on the countertop. Once your tea syrup has come down to room temperature, mix it in a one gallon jar with your bottle of vodka. Done!

The Marteani
Vodka, Earl Grey liqueur, Marmalade

Serve in a martini glass
Dollop 1 teaspoon of blood orange (or other citrus) marmalade in the bottom of the glass
Pour 1 shot vodka, 1 shot earl grey liqueur into a shaker with ice
Shake
Strain contents of shaker into glass over the marmalade

For extra fun, throw this mixture into a blender with a cup of ice cubes and you'll have iced "tea" with a kick.

In the studio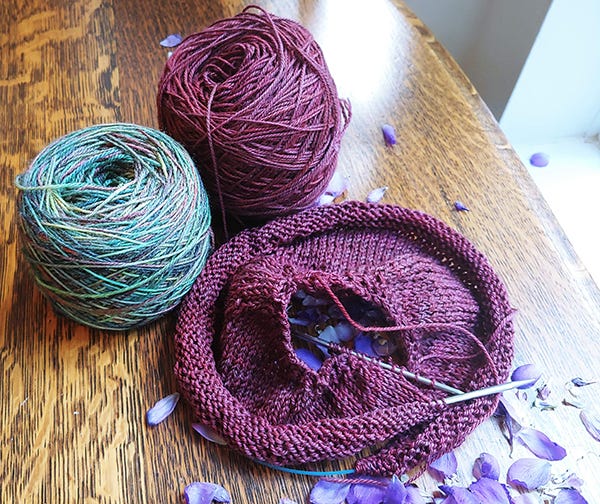 I am not one for weaving or quilting when the weather gets warm. This month, I rooted around in my stash to find some yarn to inspire an easy project for social summertime knitting. Yarns in the photo dyed by Ancient Arts (Calgary) and Sweet Georgia (Vancouver) being knit into Stephen West's Daybreak pattern.


Three things
Marxist nerd alert! Besides drinking and knitting in the sun I'm really enjoying Wolfgang Streeck's How Will Capitalism End at the moment. It's not light summer reading, but it is relevant economic analysis that explains a lot of the twists and turns our society is taking these days. Streeck contends that capitalism is quite close to, if not already, at an end but because there is no economic replacement project, the bloated corpse of our old system will remain in the road until it gets kicked out of the way. It's not a cheery book by any stretch, but I've had a number of a-ha moments while reading it. The Financial Times calls Streeck's work "devastating and cogent."

I'm not the only one who writes about my parties - they are also Internet famous! Read about a conversation that took place at one of my parties ten years ago in Getting Textual by Jill Margo and an account and recipe from the perogie party in Ruben Anderson's piece Buy Nothing Day doesn't mean living less.

If you are interested in more on weak ties and the impact of small talk on mental health, I found the recent Vice article How Small Talk With Almost Strangers Profoundly Affects Your Happiness a quick and worthwhile read.


And finally
I am still running a draw to encourage you to share this mailing. When we hit 150 subscribers I will do a draw for a jar of Birdsong rhubarb ketchup and a tea towel from the weaving studio (I'll mail anywhere). If you want a chance at the draw, keep forwarding this newsletter on to others and help me reach my next subscriber milestone.

Also, don't forget that you can get more of Comfort for the Apocalypse at the Instagram: @comfortfortheapocalypse and more of me at Red Cedar.

A big thank-you goes out this month to my "Follow Through" group at Good in Victoria (a creative and co-working space run by my amazing friends Jill and Andrew). I've been meeting with these folks monthly since January for creative encouragement and accountability and it's really assisted me in re-developing a solid writing practice. If you are interested in honing your creative skills, do check out Good's workshops and programs. They are starting intake for fall shortly and you don't want to miss out.