Discover more from Comfort for the Apocalypse
One part hope, one part a call to action. Comfort for the Apocalypse is monthly essays, recipes and recommendations for those trying to live their best possible life in impossible times.
Comfort for the Apocalypse: Issue 9, Forests and foraging
Seeing the Forest and the Trees in my Backyard
The rented house next door to us was sold in late spring and the long-time tenants moved out. On the day it changed hands (from one neighbour to another) I went over to visit a friend hired to wash the windows. I'd never set foot on the property before even though it borders ours; the woman who lived there with her two teenage daughters was polite but made no overtures to friendship and we didn't connect in the time we lived beside each other. Although the properties are separated by trees, I can see into the next door yard from the deck of my second story studio. It's unfenced, and the neighbourhood deer make a home there; I often see them bedding down on the mossy lawn or hear them chawing on foliage along the fence line. The deer are numerous on our island and do not start in the presence of humans, though when I walk up the driveway there are none around. I know from the real estate listing that this lot is double the size of ours, and it appears that at one time was professionally landscaped into a "park like setting". Real estate agents here love that term. It implies that nature is cut back, unthreatening. Trees yes, but park-like trees. Maybe even a peek-a-boo view of the ocean. This language is most often used when the house, as in this case, is older and not extravagant.

Unlike our place, with its sizeable house, two outbuildings, and a woodshed, only one 900-square foot cabin exists next door. Built in the west coast style, it is all cedar, with large windows that look out on trees of varieties I don't immediately recognize. Towards the far edge of the property is a fenced area that once held a vegetable or flower garden, but now the gate sags open and what grows inside is a whorl of tall grass and blackberry. When I approach, Gail, my neighbour selling the property, is by the front door and we greet each other. I tell her I've come to say hello to my friend and visit the house before it changes hands. "Oh, you've never seen the place?" she asks and walks me to the other end of the main space, giving me a tour. There is one central room, twenty feet in height, an open loft, two tiny bedrooms and a bathroom with a shower only. Gail tells me that this cabin was built and finished with red cedar from the property. "The original owner, I bought from him you know, he was a forester," she tells me.

We walk outside together and she points around us, naming the trees I don't know: yew, cypress, gingko, atlas cedar. I can identify the large red maple and fig trees on my own, as well as the grape vines overhanging the front door. Gail tells me that the forester had created a kind of arboretum there, giving most of his acre over to experiments and imports that continued on long after he had ceased to live here. I make a mental note of the trees that look healthiest, and think I might come back later. To get a better look at what is thriving in our neighbourhood, trees I might not have thought of before now.

I have been thinking about the survivability of trees these last few years, ever since discovering that Gabriola had been through a massive red cedar die-off the summer before we moved here. Up the road, at the farm where we buy our meat, is a standing forest almost entirely comprised of dead cedar trees and it's not the only place where dead or dying trees can be found in significant numbers. I live in a neighbourhood considered to be "good for water"–we are in the drainage path of the island's watershed and have significant groundwater supplies–and yet there are an alarming number of balsam firs and cedars that will likely come down with the next big storm. Even after this wetter summer, our large Douglas firs have reddened needles at the tips and the leaves of our maples turned brown at the edges early in the summer. We recently had to take down a balsam fir, and a Scouler's willow, neither of which were very old, and I expect that many more trees will soon follow in their wake. Periodic rainy summers will do little to offset overall warming trends and persistent winter drought.

A few years ago an arborist I know referred me to the book The Rambunctious Garden: Saving nature in a post-wild world by Emma Marris. In it, she argues there is no longer such a thing as pristine or pre-human nature because all of earth is touched by humans (or our pollution, changing of the biosphere, etc). Given that, she advocates for intensive stewardship and management of our landscapes, and moving away from the idea that only native plants should be used in re-wilding natural spaces. She also encourages us to see nature everywhere, rather than only in reserved places such as wilderness parks, suggesting that by taking care of even marginal green space, we support a number of positive outcomes such as increased animal and bird habitat, pollution control, more recreation opportunities and so on. Because we can no longer rely on native species to survive in the habitat we associate it with, Marris writes that it's time to start experimenting and to reject the notion that invasive species are unwanted interlopers. Instead, we might see them as the new survivors in an altered landscape.

I've thought about this lately while digging spurge laurel out of my garden. This plant is classed as an invasive species throughout coastal BC and the Pacific Northwest, and has taken over many of the smaller Gulf Islands. Objectively, it is an attractive, shade-loving, evergreen shrub with berries that birds thrive on. From the perspective of those who wage war against it, it is a ruthless colonizer of every patch of land it sets roots in. There are great campaigns to purge it from our island, and I have joined in since moving here, but I'm starting to question this approach, especially since the salal emblematic of west coast forests is struggling–dying off in great patches due to either warming temperatures or blight. If the salal is disappearing, is it better to allow spurge to grow, providing food for birds, shading insects and amphibians, and holding the soil in place?

Which brings me back to my question about the trees coming down around us. Whether or not the species we associate with our bioregion can survive in the future, we still need roots in the ground, habitat and food sources for birds and insects, and shade from the ever-hotter summers. We need oxygen.

And so I've started looking more closely: Which are surviving? Thriving? How do deer and birds interact with them? What kind of tree communities do they grow in? Are they solitary or forest dwelling? Like shade or open meadows? I've become a collector of this information in the hope I can figure out what the trees of our future will look like. While I am not foolish enough to think that any young newcomer can truly replace the 70-foot tall wind-twisted Douglas firs that tower above our house, I do want to start creating a future legacy of trees here. Ones that have some chance of surviving the storms, the hot summers, and the dwindling groundwater supplies.

In his book The Sound of Cherry Blossoms Martin Hakubai Mosko warns "without a guiding view, everything is reactive and lacking coherence." He is speaking about the creation of zen gardens, but this is also true for how we manage the natural systems our human activity is continually altering. To gain a guiding view, however, requires patience and observation, an acceptance of reality as it unfolds before us. I think about this as I consider potential candidates for replanting: redwood, larch, pine, juniper, cypress. I am not eager to start down this road, an acknowledgement that the forests I have known all my life are changing, but as a temporary caretaker of this small patch of earth I cannot deny what is in front of me. This acceptance is not passive; it is the only path to changing our orientation to the non-human beings around us. The beginning of truly seeing how to undo the damage we have done. Inquiring into the future of our forests, of our backyard trees, is only one part of an exercise that extends into every corner of the living world.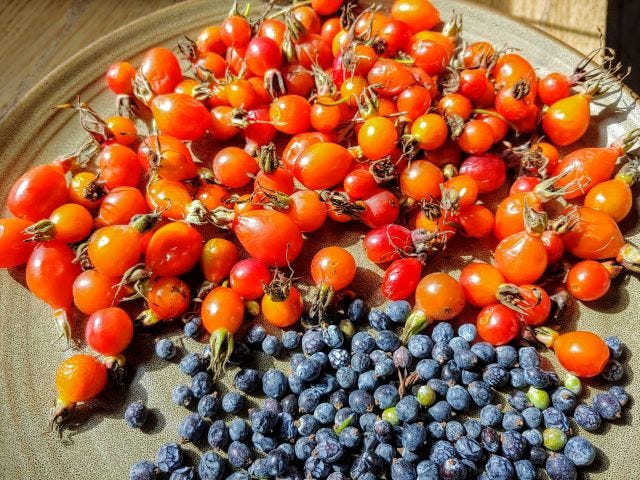 Early fall forage from the interior of BC, gifts from the forest: Rosehips and juniper berries.


September Recipe: Chanterelle mushroom soup base
Many years ago I spent a wet autumn afternoon learning to pick chanterelles and to shoot a handgun (one lesson followed the other, I was not learning to shoot mushrooms after all). I have rarely gotten to practice either of these skills since, but still feel lucky to have been introduced to wild harvested mushrooms on that day. This year I had a couple of opportunities to purchase chanterelles from Vancouver Island. The first 2-pound bag was eaten with eggs, with rice, with butter, and on toast. The second 3-pound bag was turned into soup for the freezer.

When freezing or pressure canning mushroom soup, I simply make the mushroom base–just broth, mushrooms, and seasoning–for storage. When preparing it to eat, I thicken it with a roux and then finish with a bit of half and half. You can also use this base to make mushroom and wild rice soup. This recipe makes about fourteen cups. I freeze it in 2 and 3 cup containers.

Ingredients

3 pounds chanterelle mushrooms
3 quarts of homemade beef broth
1 yellow onion
1 bulb of garlic
olive oil
Italian spices (oregano, basil, thyme)
salt and pepper

Trim and clean the mushrooms well by wiping with a paper towel. Slice and dice the mushrooms into bite sized pieces. Dice the onion and the garlic cloves. Sauté onion and garlic in olive oil until translucent. Add mushrooms and sauté for a couple of minutes until soft. Add spices, salt and pepper to suit your taste. Add beef broth and bring to a simmer for 10-15 minutes.

To thicken (2 or 3 cups of soup): Melt three tablespoons of butter in a saucepan at medium temperature. Add three tablespoons of flour to melted butter and whisk with a fork until it forms a paste. This makes your roux. Slowly whisk mushroom soup base into the same saucepan, stirring until the roux has thickened your soup. Finish with a quarter cup of half and half.

To make mushroom and wild rice soup: Do not thicken. Cook wild rice according to package directions and add a half a cup of the cooked rice to 2 cups of your soup base as it is warming up.

In the studio
I'm on the road at the moment, at our cabin outside of Princeton, BC, and then soon to be on a plane for meetings in Québec and Ontario. My studio is just a ziplock bag with a single (and simple) project in it–this knit cowl of Noro Silk Garden Sock Yarn (a silk and wool blend) in a fantastic autumn colourway. I've had two skeins of this in my stash for some time, and given the change in weather, it feels so right to be knitting them now. This project (the Churchmouse Tapered Cowl) is a perfect traveller: one set of needles, and minimal attention required to get it right.


Three things
Salal's Worrisome Die-Off An interview with ethnobotanist Nancy J. Turner on the history and uses of salal in the Salish Sea bioregion, and what happens when a keystone species disappears. From the August issue of Hakai magazine.

Frederic Jameson is quoted as having said, "It is easier to imagine the end of the world than an end to capitalism," which is likely why all strategies to combat climate change are bereft of emancipatory (decolonizing) solutions. In this 2016 article, Paul Mason argues that There is No Market-Driven Solution to Our Climate Catastrophe. Something to consider the next time someone argues that carbon offsets are a solution to anything.

And speaking of decolonizing approaches to climate change, Potawatomi scholar Kyle Powys Whyte has complied an excellent set of article links and a bibliography addressing Indigenous Climate Change and Climate Justice. Equally required reading (but not listed on that page) is his paper Indigenous Science (Fiction) for the Anthropocene: Ancestral Dystopias and Fantasies of Climate Change Crises which offers an Indigenous perspective on the present, from a place of a recent apocalypse.


And finally
The subscriber contest is still ongoing - you could win a handwoven tea towel and a jar of rhubarb ketchup if you share this with someone you think will appreciate this monthly mailing. We are very close to the magic 150!

A big thanks to all of you who do read and write back to me with your thoughts. Being heard in the world is one way that I cope with the changes we are collectively facing. Being in dialogue demonstrates we are not alone, as does joining with others in protest as many people are doing around the world today. Whether today finds you out on the streets, or in your backyard to turn your garden, I encourage you to carry the spirit of the autumn equinox: harvest, change, and survival.

If you want more of me before the month is up, please check out my blog at Red Cedar where I've just posted some thoughts about fall food foraging, or my instagram feed @comfortfortheapocalypse.